Was the seminal library in Alexandria? Or was it a certain Parisian building, one decried by Victor Hugo in his famous "this will kill that" chapter from The Hunchback of Notre Dame?
I stood in an open space, nine floors below a rooftop view, and
I wondered whether
San Diego Public Library's Central Library
outpaced them all.
Designed by San Diego architect Rob Quigley, San Diego's new Central Library is the FUTURE of libraries. Repository for books, both new and rare? CHECK. Art gallery? CHECK. Rooftop reading room? CHECK. Coffee shop and snack spaces? CHECK and CHECK. Multi-purpose event spaces? CHECK. A charter high school? CHECK.
People even line up to play chess in the lobby.
Oh, and anyone heard of Comic-Con? As an official venue for 2015 San Diego Comic-Con, the San Diego Public Library's Central Library hosted the likes of Harrison Ford and the Star Wars team. (And yours truly wandered every hallway touching everything Han Solo may have touched……….)
As America's 8th largest city, San Diego invests millions in reading, in learning and in the advancement of its people.
And for two days,
the city of San Diego has invested
in bringing YOURS TRULY to the people.
Check out my Facebook author page, personal profile, Twitter stream, Periscope and Instagram today, September 21, for a very special Make a Memory event with Erwin Magbanua, Programming and Special Events Coordinator for San Diego Public Library.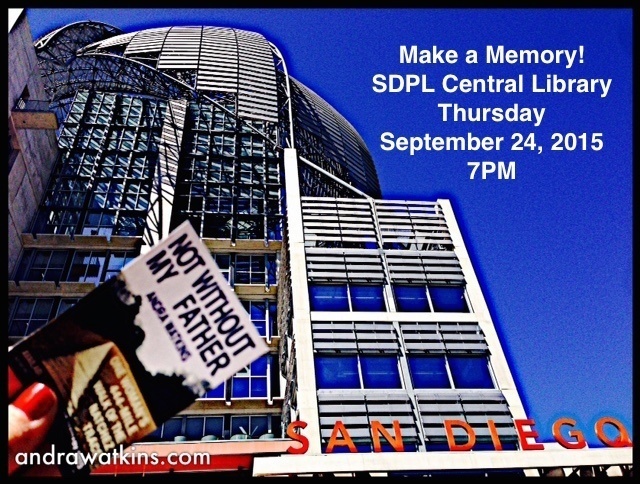 Know anyone in the greater San Diego area? Invite them to the official kick-off of SDPL's Discover You program, featuring ME!!!!!! Make a Memory at SDPL's Central Library. Thursday. September 24, 2015. 7PM. (Invite your friends HERE.)
If you've been following me for a while, you know I kick a ton of doors. Sometimes, one opens. As an author, an invitation to the San Diego Public Library is like winning an Oscar. It's validation. When I'm in a morass of self-doubt, I look at this invitation and realize I'm going someplace. I'm further up the hill than I think I am. Maybe not where I want to be, but I'm making progress. PLEASE share this post with your friends. You never know who may know someone in San Diego who needs to Make a Memory!
Get Not Without My Father: One Woman's 444-Mile Walk of the Natchez Trace.
Nominated for the 2015 National Book Award for Nonfiction, the Sarton Memoir Award and the IBPA Benjamin Franklin Award for Autobiography and Memoir. Click the book cover in the upper right-hand corner of this post and be inspired to Make a Memory.
Facebook Comments
comments