I spent much of my first Switzerland residency day getting acquainted. With my accommodations. With the other residents. With the village of Trelex. Trelex is located on the edge of Jura Mountain Park, between St Cergue and Nyon. I spent about 15 minutes to tour Trelex on foot, and I saw it all!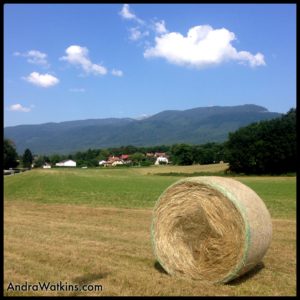 Turns out, I've been pronouncing Trelex wrong. It's Tre-lay. The x is silent. So I've been telling everyone the wrong place!
A small church commands a view of Lake Geneva. A school borders the roadway up the mountain to St Cergue. The train station has no building, only a sidewalk to hop on and off.
The town has a boulangerie (Lord help me), a tiny market with eclectic opening hours, and one shop, ironically called Decoration Florence. Appropriate, yes? Since I grew up in a town called Florence.
Trelex, Switzerland is part of Jura Vaudois Nature Park, a mountainous area north of Lake Geneva. Over 523km of hiking trails thread through the park. On some, one can find Alpine Gruyere cheese produced in tiny huts. Wednesday morning, I walked toward the neighboring village and found this field. Vistas like this one abound in the area.
To get to the supermarket, I can take the train into Nyon a fast four stops away. I can practice yoga in the village on Monday evenings and Thursday mornings. And of course, I can hike.
Thanks for taking the time to tour Trelex with me. Connect with me on social media through the icons at the top right of my website to see even more pictures from Trelex!
—————–
To learn more about the Trelex Residency visit their website.
The book I'm working on now is a sequel to the others in the Nowhere Series so if you haven't read the first two – go get them now!
Facebook Comments
comments