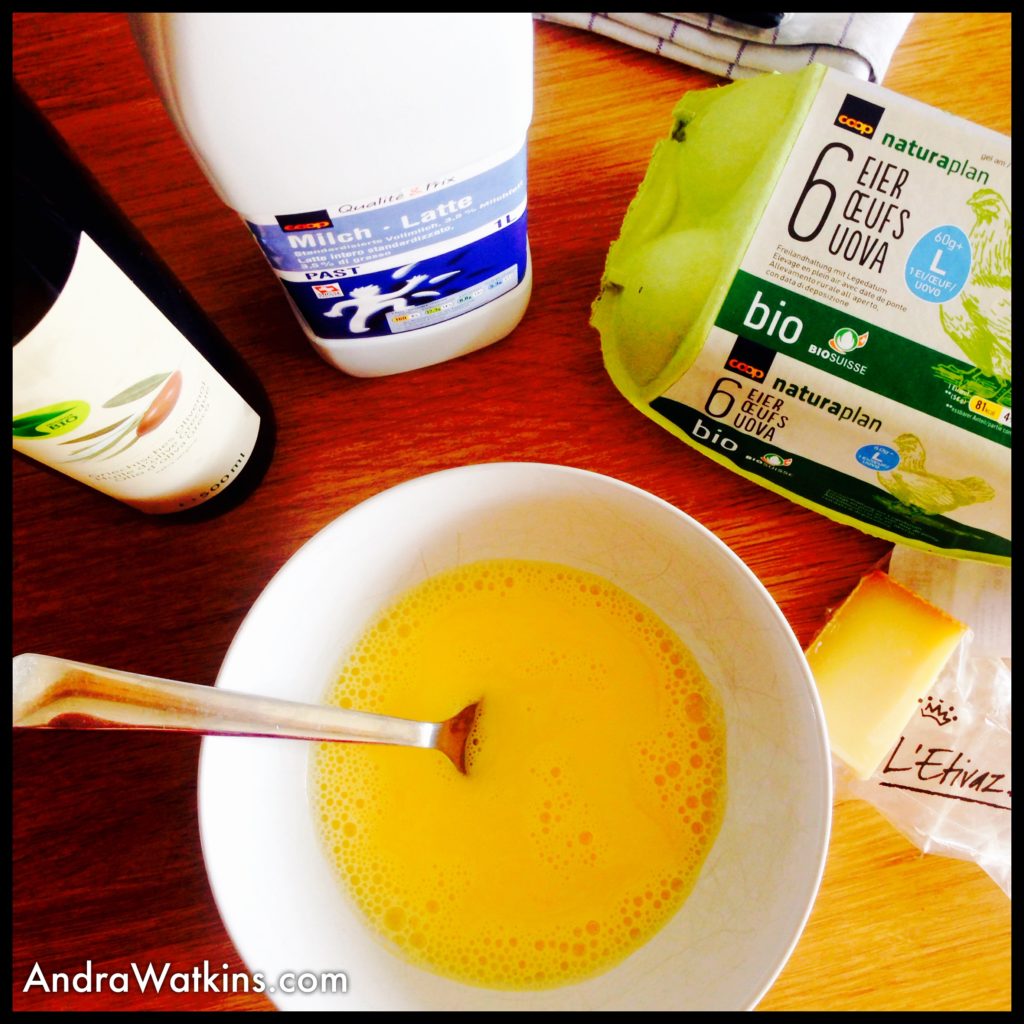 Residencies aren't resort experiences. I don't have a maid coming in every day to freshen my towels and make my bed. A trek to the bathroom at 3am means groping up a flight of stairs and using the studio toilet. All artists share a shower and kitchen. (Shower not shared at the same time……that I'm aware of. Ha.) If I want clean sheets, I have to decipher the German on the washing machine.
And most unlucky for non-gourmet me, we don't have a resident chef. Residents must either prepare their own meals or go out. (And eating out in Switzerland would bankrupt me. I haven't found many things in Switzerland to be as expensive as I was told, but dining out lived up to sticker shock hype.)
So I've been forced to make food. And because I didn't want to subsist on cereal and popcorn for three weeks, I decided to learn to make the ultimate French dish: an omelette. My omelette is simple: 2 eggs, a Swiss cheese I've never heard of grated on it while it heats, some milk in the egg mixture, and pepper to finish. On the induction stove, I set the eye to 5 and throw in a drizzle of olive oil right before I pour the egg mixture into the hot skillet.
Et voila! I've mastered the science of the cheese omelette during my residency. For those curious about my typical routine, it doesn't vary much.
I usually wake up between 9 and 10am.
I practice yoga for up to an hour in my room. I'm using Michelle Goldstein's Heart Alchemy Yoga series on YouTube, and it's excellent. For anyone interested in maintaining their practice while traveling, check them out.
I shower and catch up on any urgent email.
Around noon, I make my omelette and eat.
I practice French on my DuoLingo app. As of this entry, I'm 25% fluent.
Around 2pm, I settle in and start writing.
I usually break for dinner between 6 and 7pm, but I've gotten on tears and missed dinner altogether!
Around 1am, I wrap up and go to bed.
Also, I FaceTime with MTM throughout the day, usually when he wakes up and before I go to sleep.
Most days, I barely leave my room. I have one more big hike planned, plus another day trip to Geneva. Oh, and I decided to be adventurous and booked myself into a wine dinner in the next village for one of my last nights. I'm waiting to be banished to the baby table with my appalling French, but I'll be sure to report.
———
P.S. Wondering what I'm doing in Switzerland? I'm at a The Trelex Residency in Maison Binet!
The book I'm working on now is a sequel to the others in the Nowhere Series so if you haven't read the first two – go get them now!
Facebook Comments
comments