I didn't even know the Swiss had distinct wine regions when I arrived in Trélex. Riding the train from Nyon, I passed vineyard after vineyard and thought, "Dang. Maybe I need to try some Swiss wine." I rooted around the internet and found a winemaker in Givrins, the next village up from Trélex. He was hosting a wine tasting and dinner on July 6. Without knowing squat about his wine or the meal, I emailed him and asked if I could come. He said, "Mais oui!"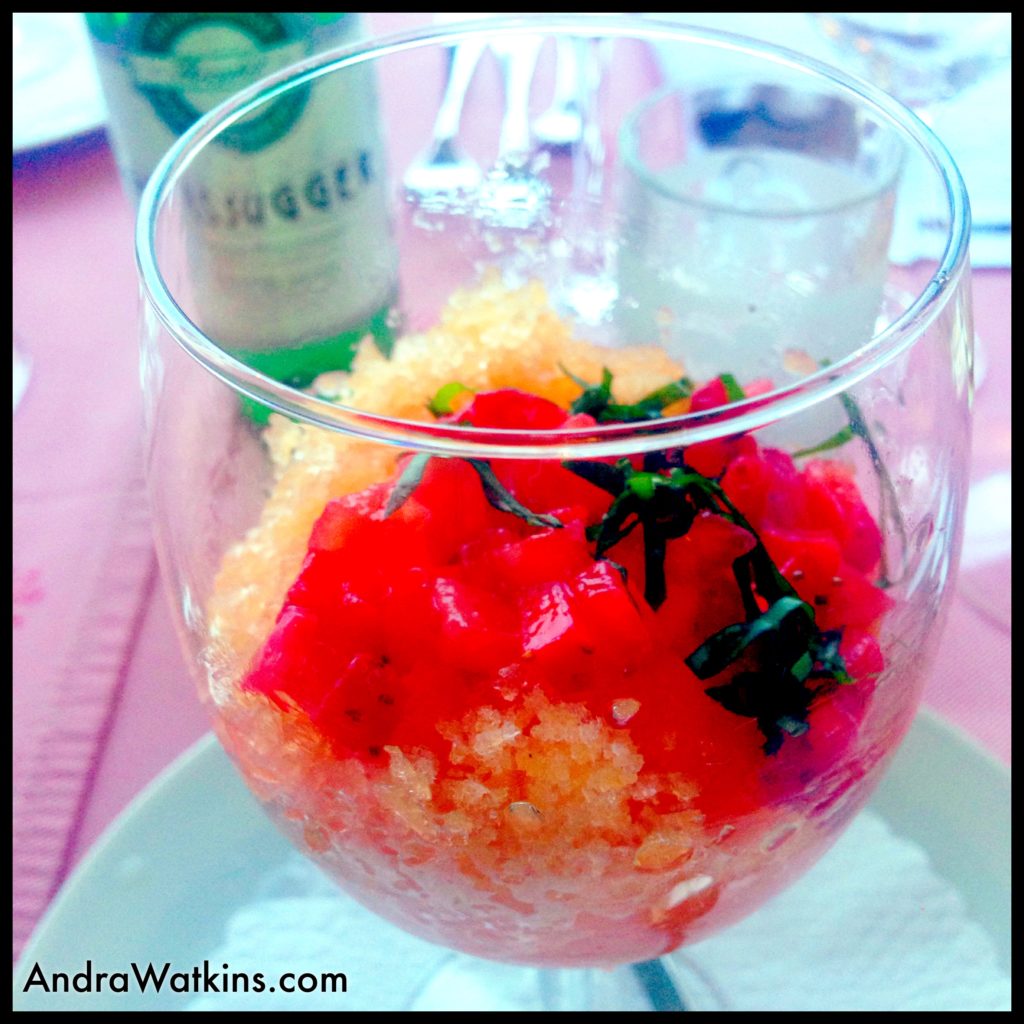 Dinner began with a Bovet wine paired with this lovely granita. Melon and basil cleansed the palate.
The tasting was at Cave Philippe Bovet. When I signed up, I didn't know his chenin blancs and Leman noires are among Switzerland's most lauded wines. One of the most acclaimed wine tasters in Switzerland told me once we settled in to taste 18 wines. Yes, 18 Swiss wines!!! I dumped a lot of amazing wine in the spittoon during those three hours, and I was still a bit loopy by the time we walked to dinner.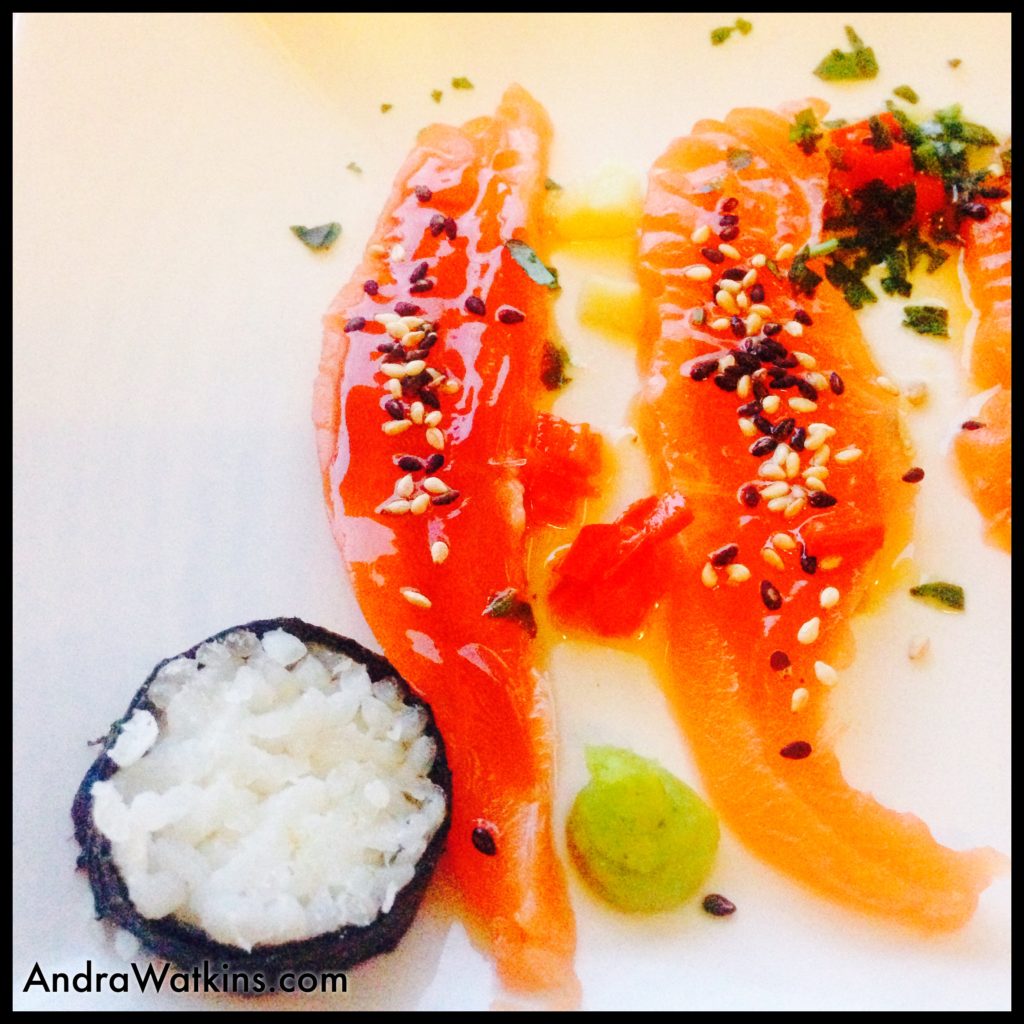 The second course paired Philippe's 2015 chenin blanc with sashimi-style trout. I unabashedly licked this plate.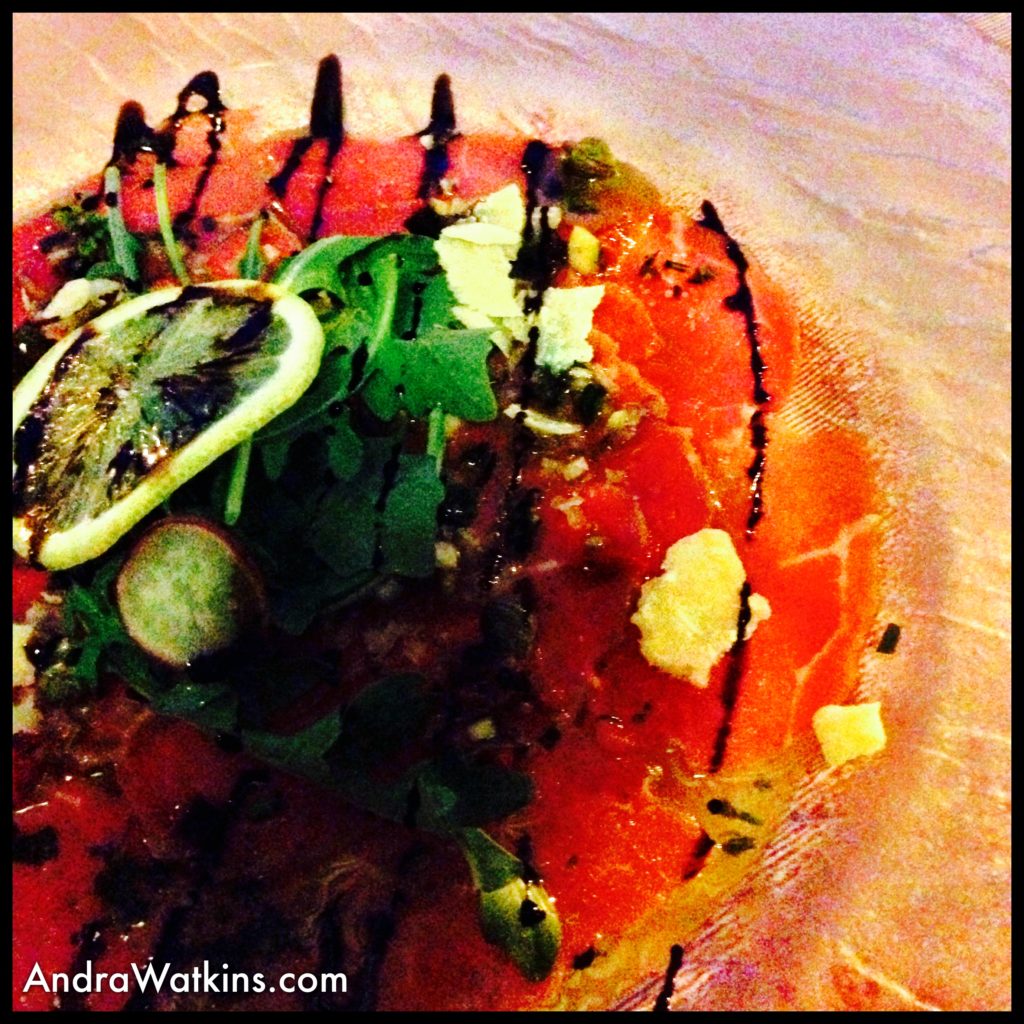 Beef carpaccio dripping with olive oil and basil was paired with Philippe's 2012 Leman noir for the third course. I was already about to burst by this point, yet somehow found a way to shovel every morsel of this into my trap.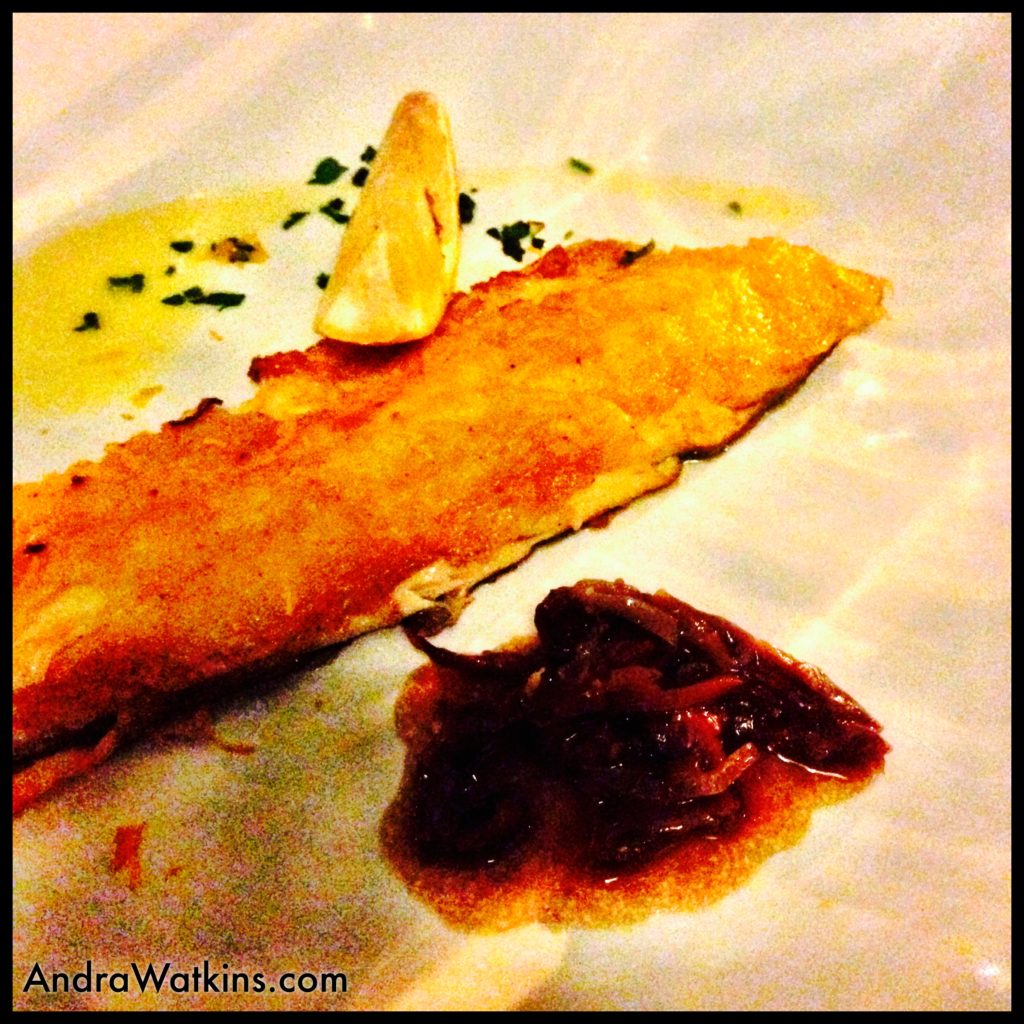 And I also ate everything on this plate.
A brochet filet tempura fried was paired with Philippe's 2009 Leman noir.
The last train bound for Trélex left Givrins at 12:26am, about the time this gorgeous filet mignon appeared. Either I was going to have to stumble home or get a ride, because I wasn't missing the rest of this feast. This dish was paired with Philippe's Leman noir 2015.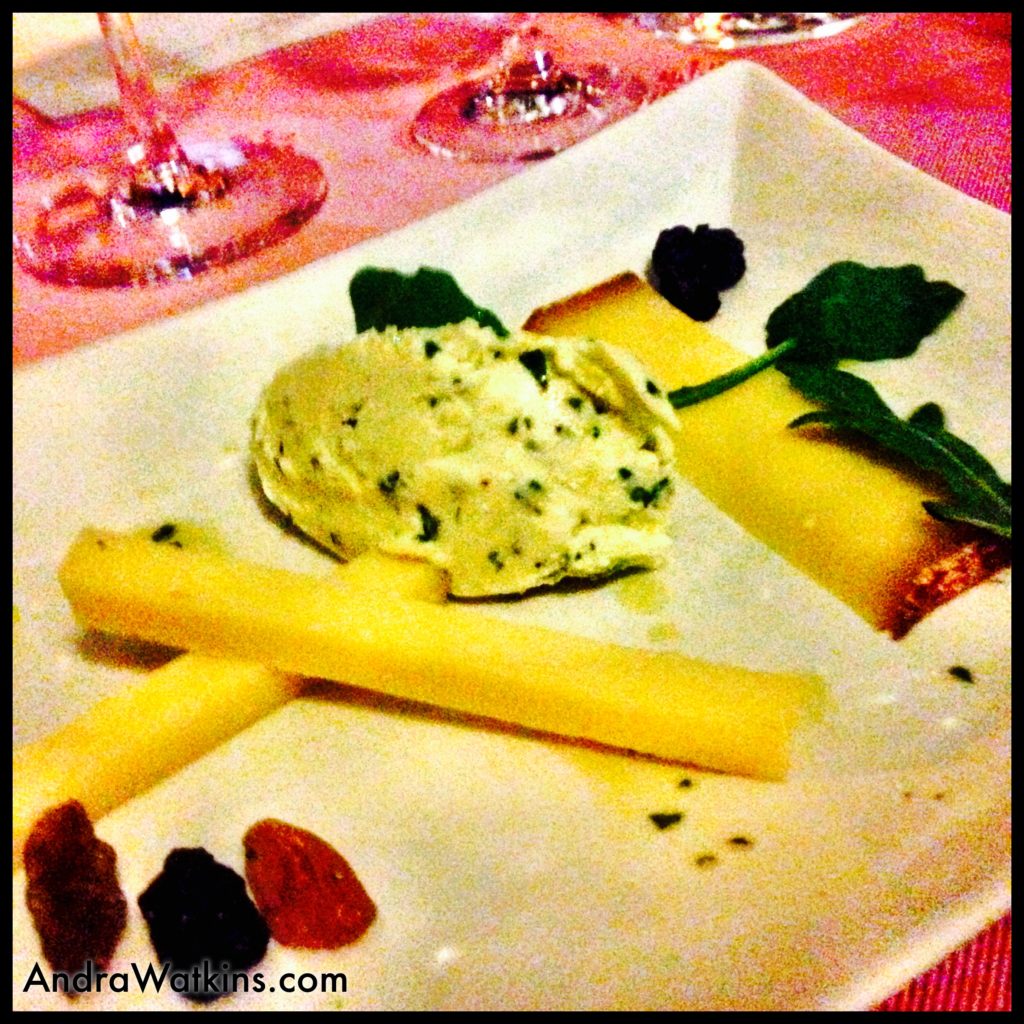 A cheese course paired with chenin blanc? The Swiss insist their cheeses are better with white wine. Chèvre and gruyere were paired with Philippe's 2009 chenin blanc. It was perfect.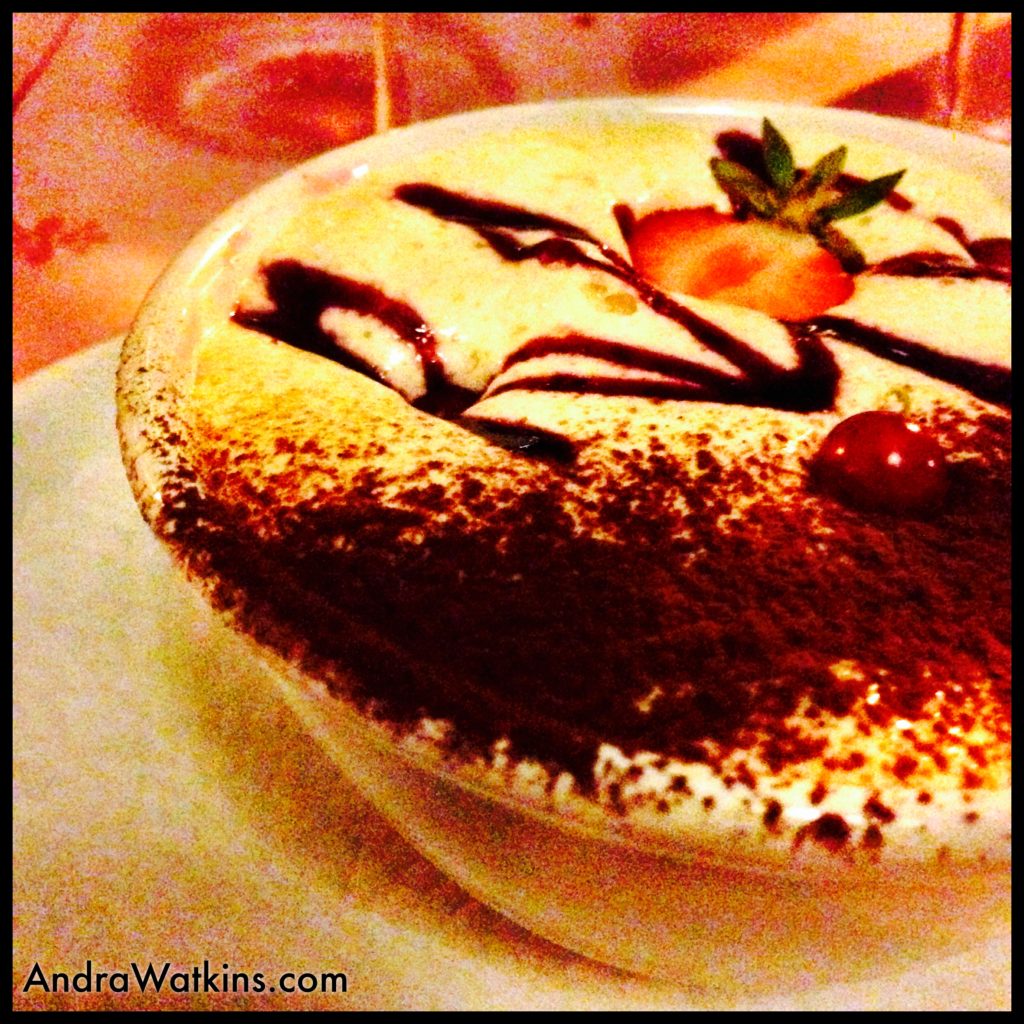 Seventh course…..tiramisu with red fruits. Currants, cherries, and raspberries are in season right now in Vaud, and they were a tasty accompaniment to Philippe's 2008 Chenin blanc.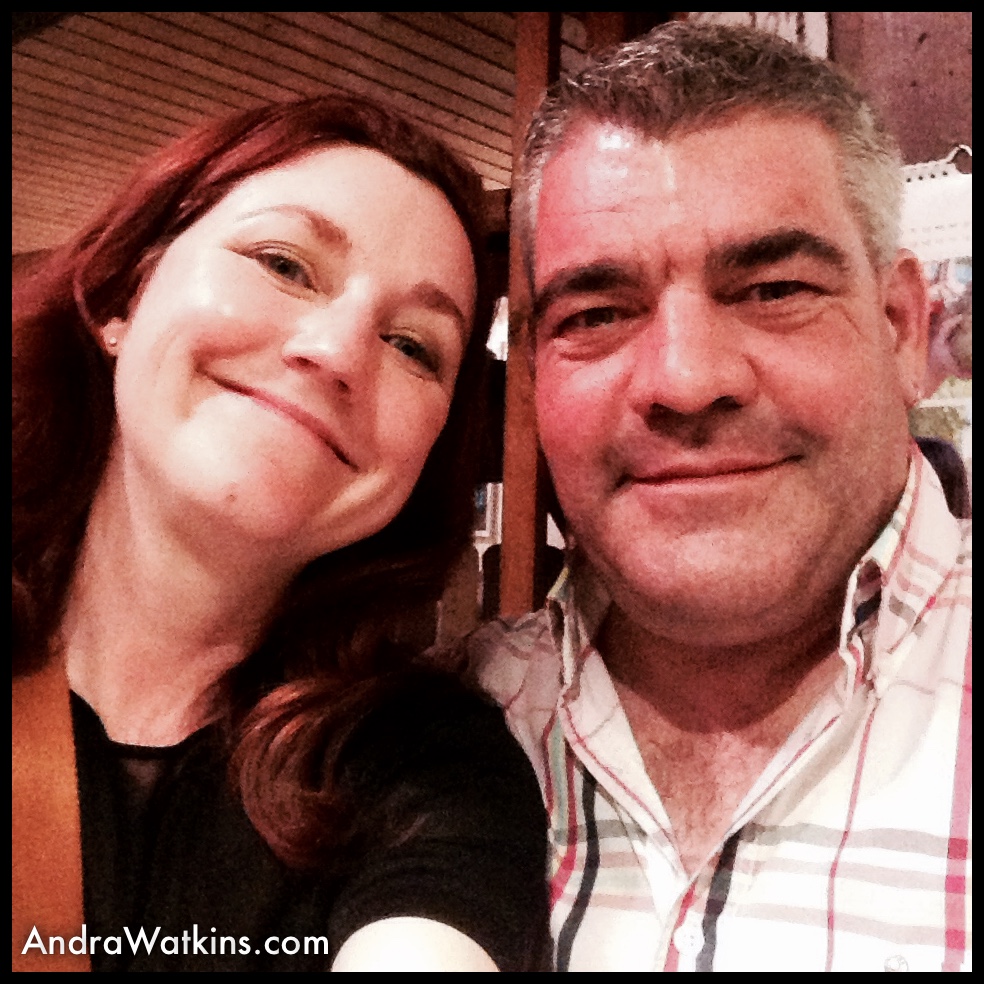 The meal finished at almost 2am, and Philippe took us back for a nightcap and tour of his cave. I'm grateful he included me in this adventure. I barely followed the French, but I had such a glorious time. The Swiss included me like I was one of them. I blew whatever weight I've lost. And I made new friends in Pascal, Francois, Olivia, Gerard, and Philippe. Olivia and Gerard brought me home. This experience reminded me once again of the power of spontaneity. I need to keep pushing myself to experience the world in different, unexpected ways. For more information on Cave Philippe Bovet, visit philippebovet.ch.
Olivia and her husband Gerard brought me back to Trélex at 2am!
———–
P.S. Wondering what I'm doing in Switzerland? I'm at The Trelex Residency in Maison Binet!
The book I'm working on now is a sequel to the others in the Nowhere Series so if you haven't read the first two – go get them now!
Facebook Comments
comments