ANDRA LOVES LIBRARIES!
Erwin Magbanua, programming coordinator at San Diego Public Library, called her Make a Memory program "the most unique adult program I've witnessed in my career."
Andra appears at libraries around the United States. She entertains, educates, and inspires patrons without reading from a book or sitting at a table. Her programs are high-energy performances. Attendees make memories with people who matter. Patrons laugh, cry, and think.
But don't take our word for it.
Read what patrons of the Durham NC County Library said about Andra's program.
What did you like about this program?
"Dynamic speaker"
"Interesting and entertaining"
"Very inspiring"
"Great storyteller"
"I enjoyed every aspect"
"Speaker made her book come alive"
"Her personality"
"Great energy"
"Very entertaining"
 What changes would you recommend?
"None"
"None. Bring her back for her next book."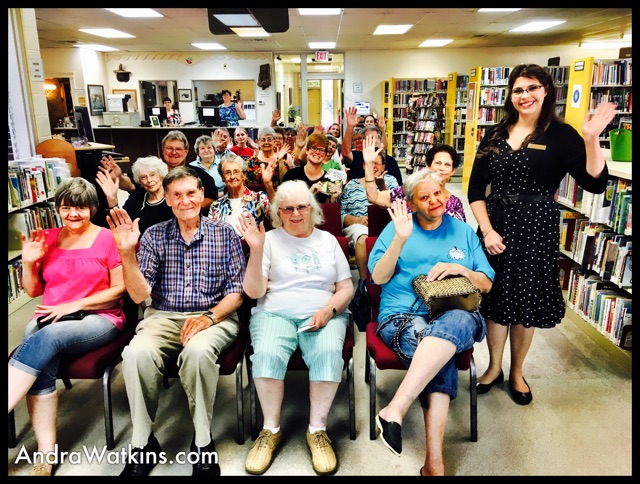 Are you a librarian seeking an author program your patrons will LOVE? Contact Andra's team! Request a program proposal, but don't wait!
FOR APPEARANCE REQUESTS, CONTACT WILLA MAE WELLS
publicity@andrawatkins(dot)com
Here's a short list of libraries who've hosted Andra:
The Brentwood TN Library
Lewis County TN Public Library
Durham NC County Library
Charleston County SC Public Library
Greenville County SC Public Library
Florence County SC Public Library
Calhoun County SC Public Library
Bamberg County SC Public Library
San Diego Public Library
Multnomah County OR Public Library
Cedar Mill OR Community Library
Aloha OR Community Library
Seaside OR Public Library
Garden Home OR Community Library
Aurora OR Community Library
Elmhurst IL Public Library
Lakeview WI Community Library
Williamson County TN Public Library
Howland NY Public Library
The Jones Library, Amherst MA
AND MANY MORE!