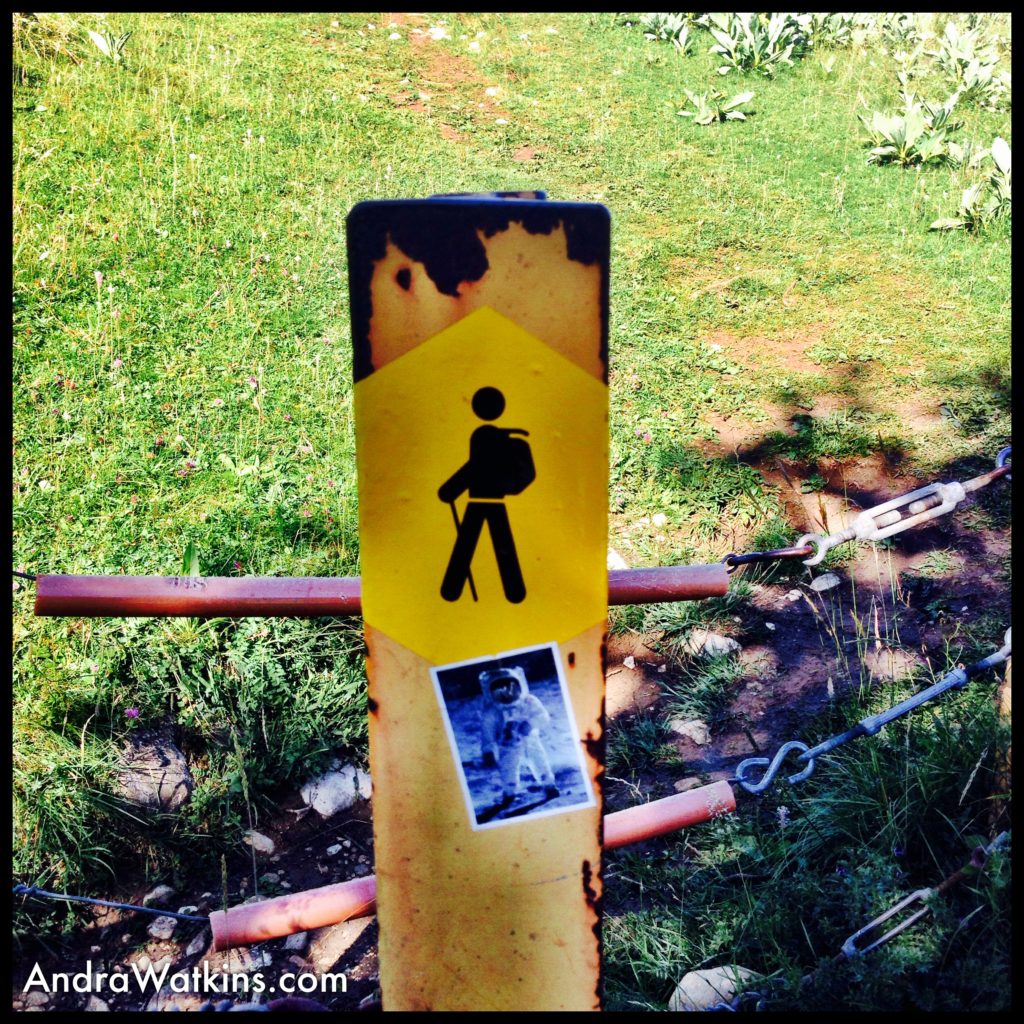 I probably should've pondered this sign longer at the outset of my hike of La Dôle.
A stone massif in Switzerland's Jura Mountains, La Dole tops out at 1,677 meters above sea level. It's the Jura's second tallest peak, which should've translated in my feeble head as WHAT THE FLIP ARE YOU DOING TROTTING OFF ON THIS HIKE BY YOURSELF???????? Neil Armstrong' iconic spaceman image didn't deter me. I breezed past it not realizing what mayhem I was getting into.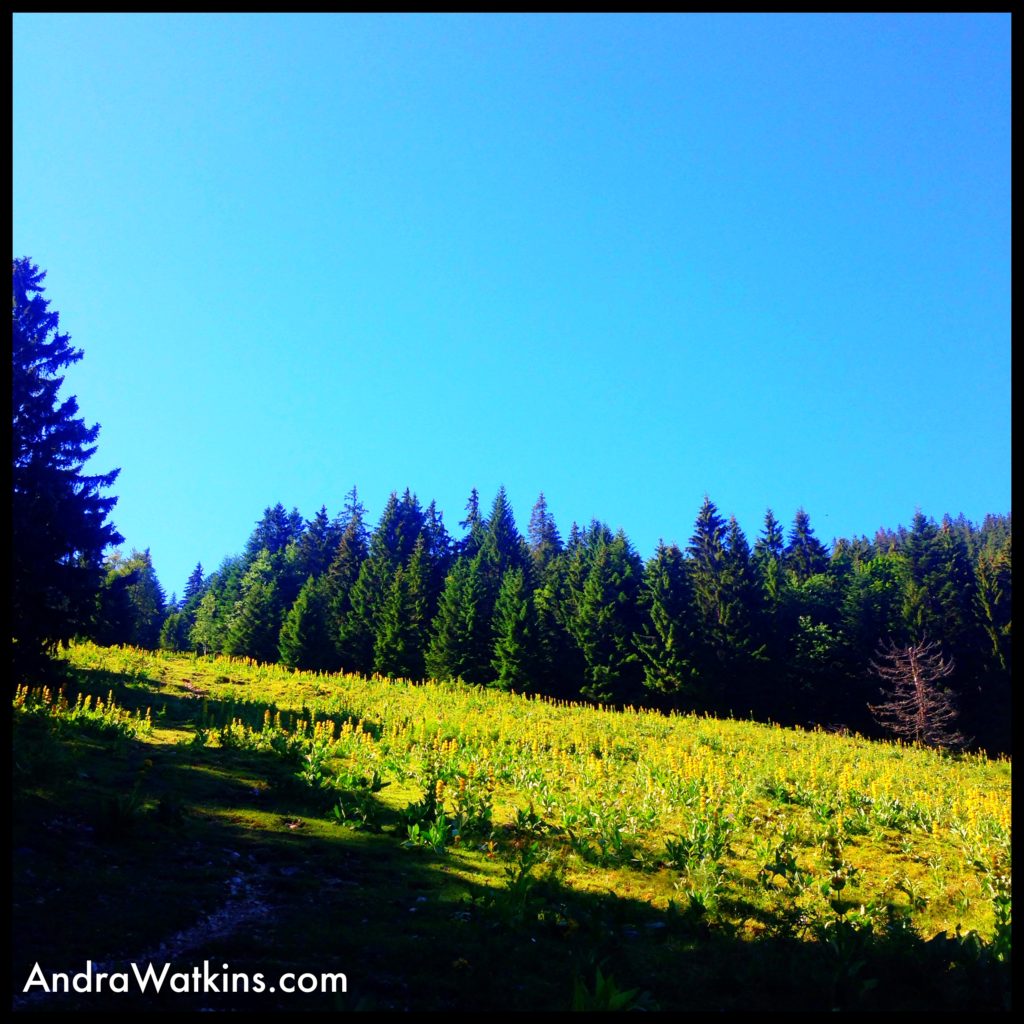 I started my La Dôle hike obsessed with these fields of yellow alpine flowers. Being a dweller at sea level, I don't often encounter alpine flora and fauna. The early morning light grabbed the landscape and made it pop.
I accessed the La Dôle route from the ski village of St. Cergue, about 30 minutes of walking from the trailhead. These yellow signs are plentiful. But I'm me. I went the wrong way once and backtracked. OF COURSE I'd climbed halfway up the wrong mountain by then.
After I went the wrong way, I followed this Swiss gentleman to stay on the route, and look where he led me. La Dôle limestone crags burst through the earth's crust and reach toward the sun.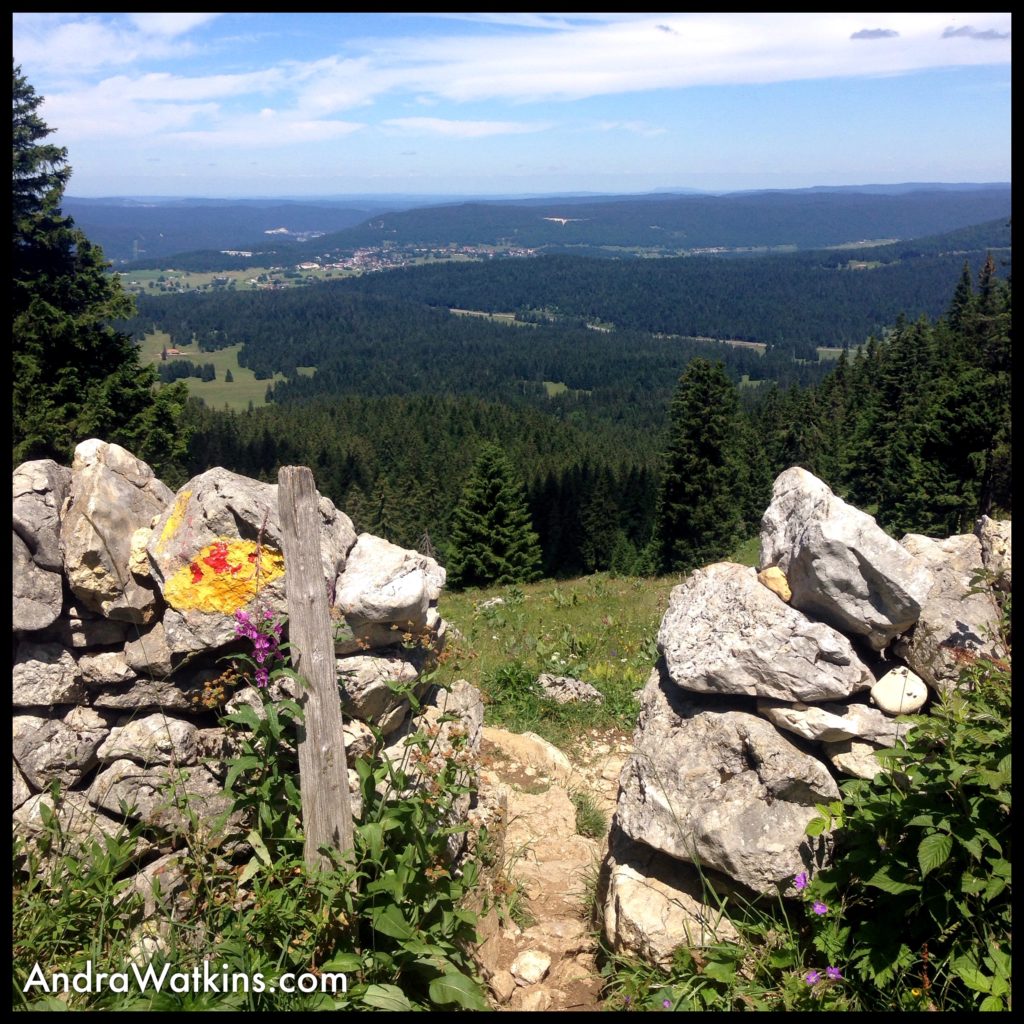 I traversed expansive ski runs on my way to the top of La Dôle. Cows grazed everywhere. Stone fences, stiles, and even barbed wire kept them where they were supposed to be. Still, I made friends with many creatures who make the raw materials for the cheese I've been consuming on residency.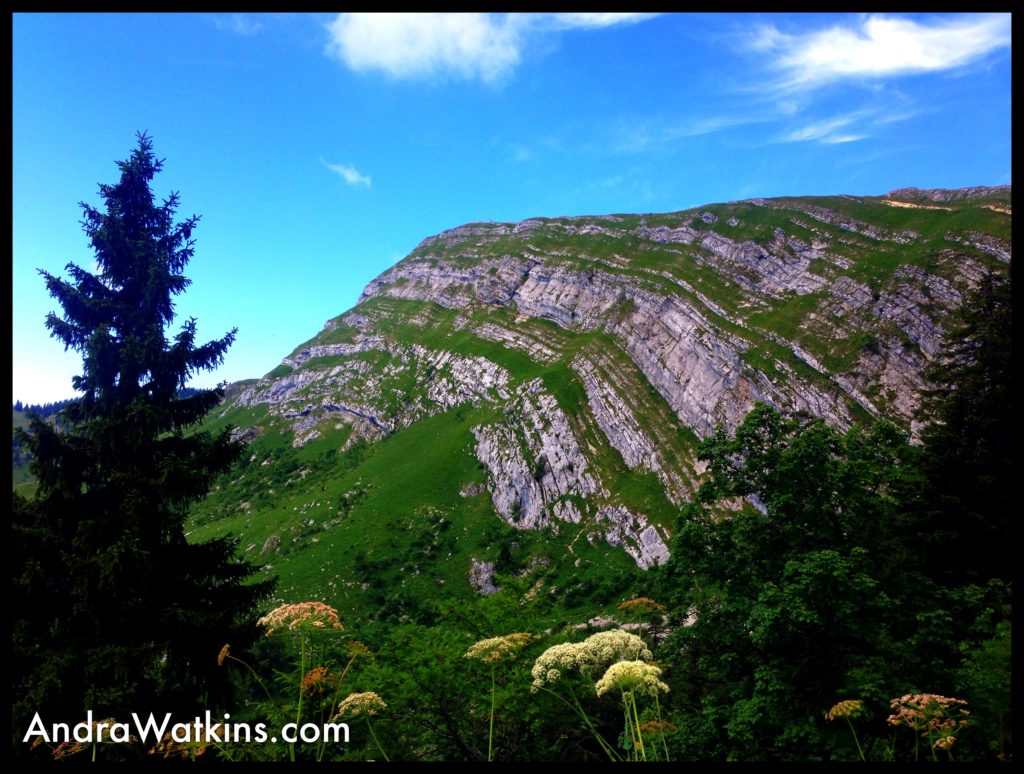 I started to get worried as I climbed to La Dôle's saddle. Near the top, I witnessed hikers scrambling along a steep trail with a sheer drop on one side and no handholds on the other. I sat down on a rock, ate some cherries, and forced myself to keep going. I reasoned I'm a seasoned hiker. How bad could it be??? (Cue Jaws theme.)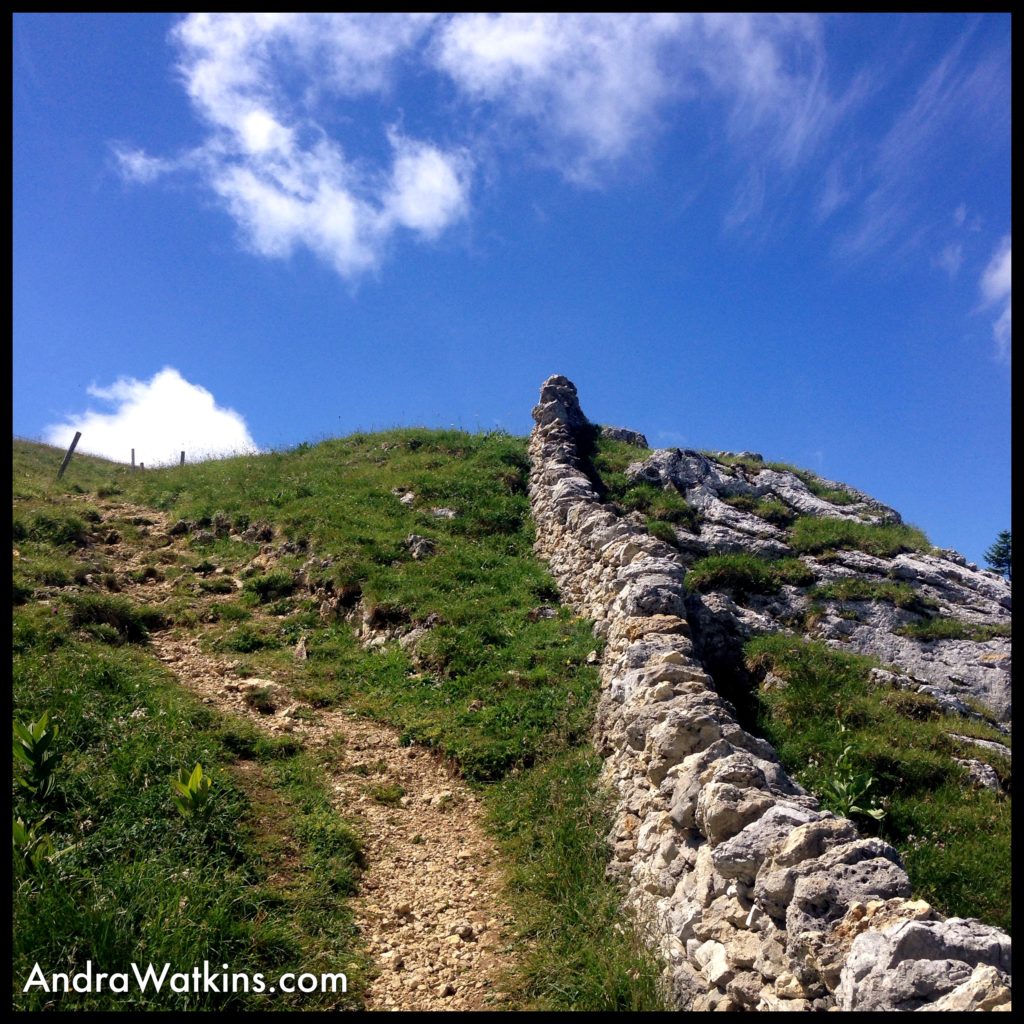 Finally, I stood on La Dôle's backside. Only one steep scramble stood between me and a 360-degree view. I inched onto the access trail and made it about halfway before I panicked. My foot slipped, and I almost fell in a spot with little room for error. Then I found another rock, munched more cherries, and asked myself if the panorama was worth risking my life?
I almost talked myself into turning back. I don't know what propelled me forward. The sensation was similar to the conversations I have with myself over my writing. Why do it when it's precarious and mutilating and sweaty and rocky and lonesome? When I'll never stand on the summit and say, "I'm paying my way."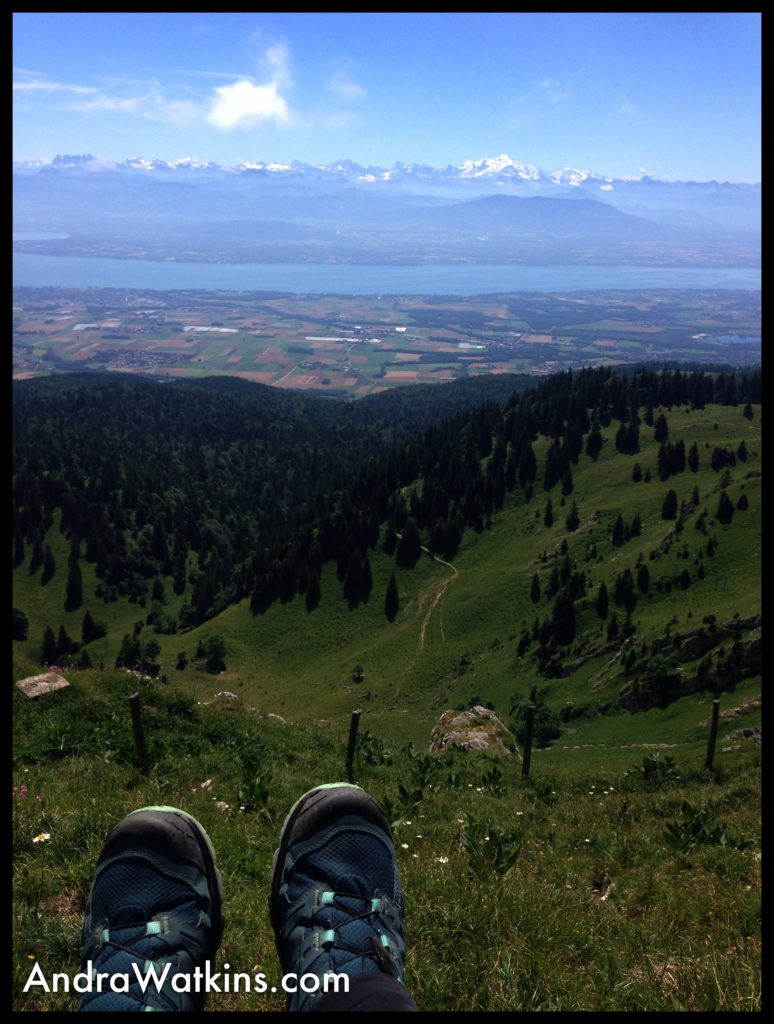 I'm glad I forced myself through the last harrowing scramble.
La Dôle's summit sports a panoramic view of Mont Blanc and the French Alps, with Lake Geneva in the foreground. From my perch, I could see all the way into France beyond Geneva to well around the bend in the lake at Lausanne/Evian. Pictures don't capture the jaw dropping gorgeousness, but I tried anyway.
And yes, those hiking boots were part of my walk of the Natchez Trace.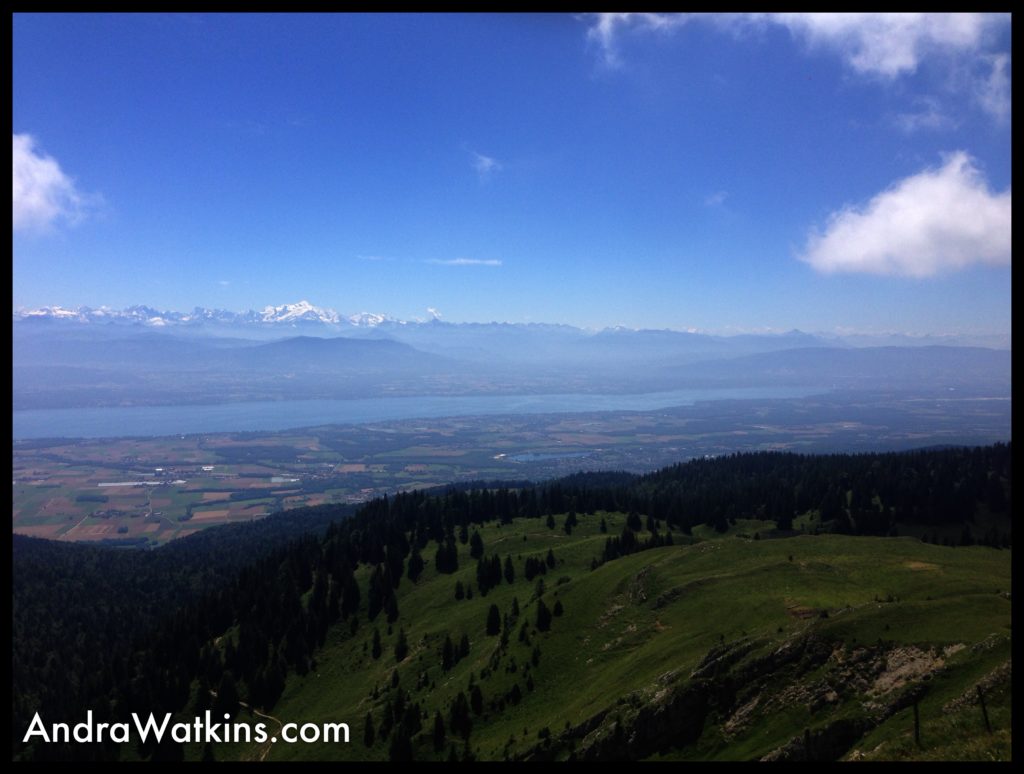 Mont Blanc lords over Geneva at lake's end on the right.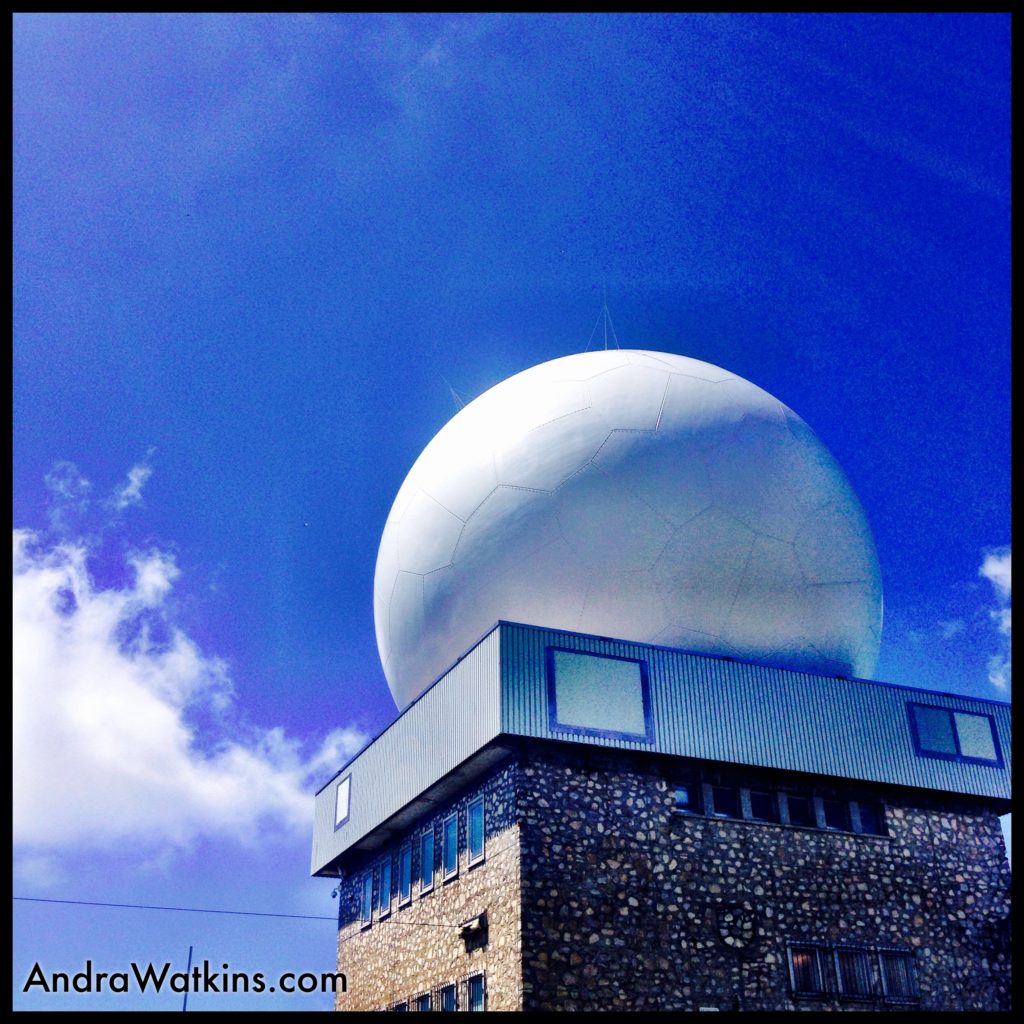 This white sphere is probably La Dôle's most iconic feature. Swiss weather and tv stations use the massif's height to broadcast all over Switzerland from towers at the summit.
A Geneva native, Rousseau spent time in the Jura peaks, but I'm closing with his contemporary, JW Goethe. He climbed La Dôle in the late 1700s and penned these words:
There are no words to describe the grandeur and beauty of this spectacle.
He was right. I hope you'll see for yourself someday.
P.S. Wondering what I'm doing in Switzerland? I'm at a The Trelex Residency in Maison Binet!
The book I'm working on now is a sequel to the others in the Nowhere Series so if you haven't read the first two – go get them now!