Ever notice markers like this at historic sites you visit? I do, because I'm a proud Daughter of the American Revolution.
Chances are the marker was placed by the local chapter of the Daughters of the American Revolution.
To become a member, a female must trace her lineage through female ancestors and connect with someone who served in the American Revolution.
My ancestor was Captain John Anderson. He hailed from Virginia. I was both surprised and pleased to find out I have Scandinavian ancestry.
As a proud member of the Daughters of the American Revolution, I always take note of markers we erect. The DAR reminds people of our historic fabric and teases out layers in every landscape. We even played a role in the construction of the Natchez Trace Parkway.
Intrigued?
A desperate explorer. A little girl in danger. Can they beat their mutual enemy before it's too late? If you like thrilling action, compelling characters and rollicking adventure, then you'll love the 2nd book in New York Times bestselling author Andra Watkins' Nowhere series.
To Live Forever is available NOW. Amazon/Nook/iTunes/Kobo.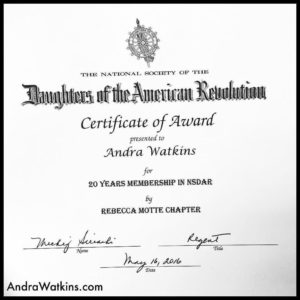 Connect with me on social media to see the rest of the videos in this series! All the links are on the top right of this page.